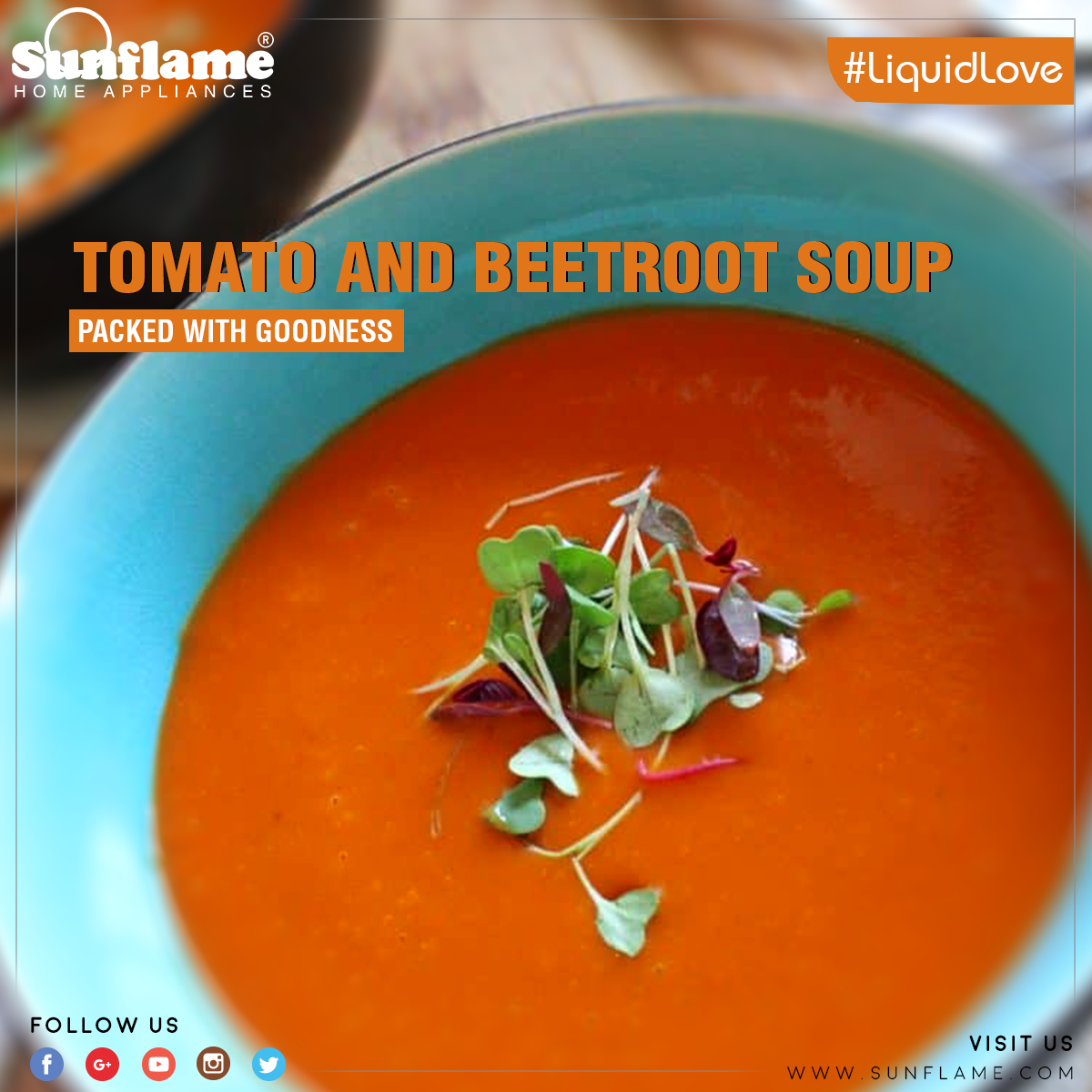 INGREDIENTS
500 grams Tomatoes, quartered
1 Onion , finely chopped
50 grams Beetroot, roughly chopped
3 cloves Garlic
1 teaspoon Whole Black Peppercorns
1 inch Cinnamon Stick (Dalchini)
2 Cloves (Laung)
2 Cardamom (Elaichi) Pods/Seeds
2 teaspoons Butter
1 teaspoon Cooking oil
2 cups Water
1/2 cup Milk
Salt,to taste
INSTRUCTIONS
To begin making the Tomato & Beetroot Soup, heat butter and oil in a pan on SUNFLAME CRYSTAL METALART SS SERIES.
Add the whole spices (cardamom, cinnamon, cloves and peppercorn) to it and sauté them lightly till aromatic.
Next, add the garlic and onions and saute them up till light brown and translucent.
Then, tip in the quartered tomatoes and toss them continuously, cooking on a medium flame, until the skin shrinks.
The next step is to add the beetroot, salt and water to this and pressure cook until you hear a couple of whistles. Turn off the heat after a couple of whistles and allow the pressure to release completely.
Once the pressure has released from the cooker pour the tomato beetroot soup mixture into a blender to make a smooth puree.
Strain the soup into a saucepan, add the milk and bring it to a gentle boil, allowing it to simmer for 2-3 minutes.
Serve Tomato & Beetroot Soup along with Cheese Garlic Bread and Chickpea Orange Salad with Sun Dried Tomatoes for a light weeknight dinner.