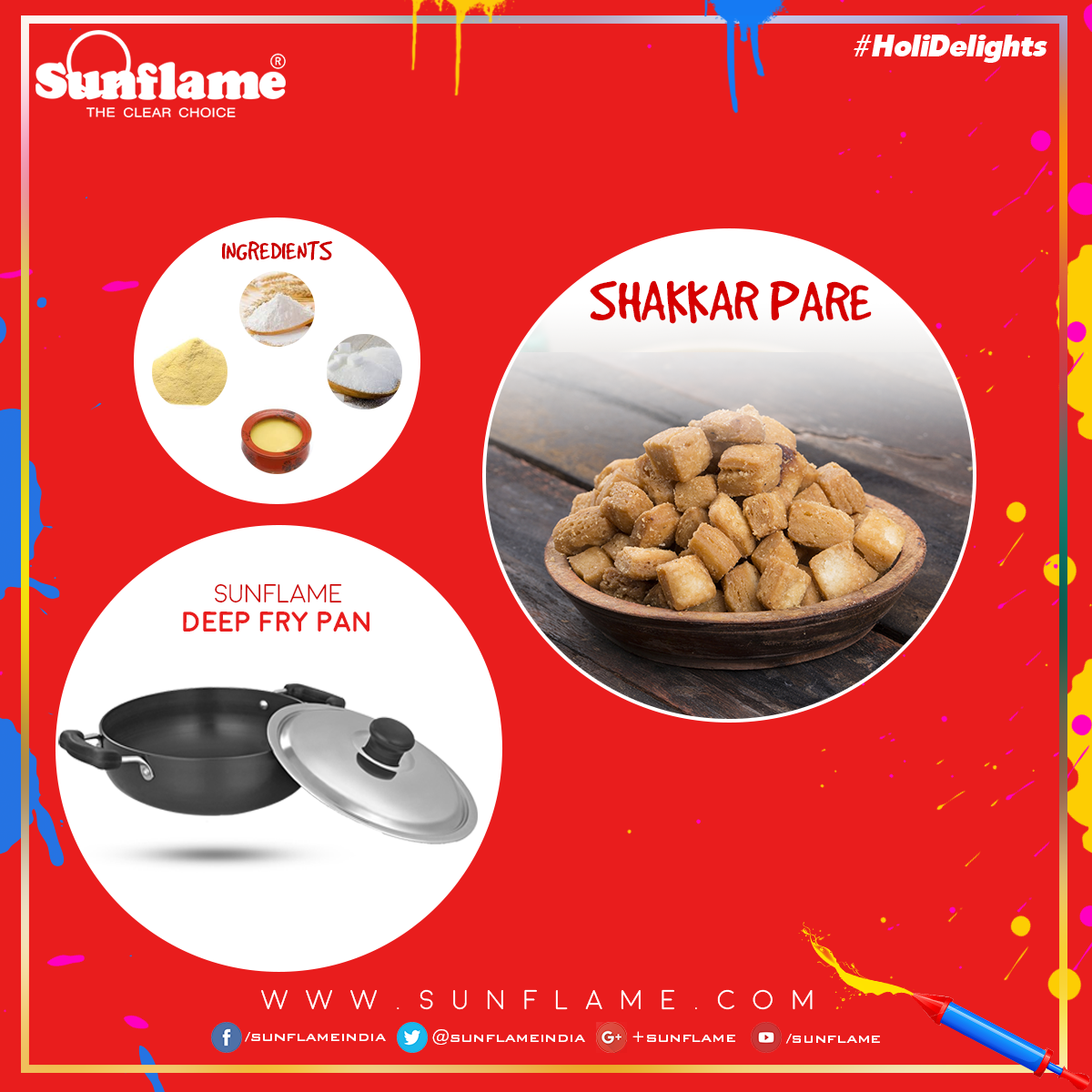 Shakkar Pare
For Shakkar Para:
1 cup all-purpose flour (maida)
¼ cup or more fine semolina flour (sooji)
2 Tbsp oil
Around ½ cup water or as needed
Oil to fry
For Sugar Syrup:
½ cup sugar
½ cup water
½ tsp cardamom powder
¼ cup dry grated/desiccated coconut
1. Mix both flours in a bowl. Mix in oil and rub until you see that when you take flour in your palm and close your fist it forms a lump.
2. Gradually add water, knead to make a slightly firm and smooth dough. Do not overknead. Cover dough and keep aside for 15-20 minutes. You can wrap in cling film and refrigerate for a day or two until you are ready to fry.
3. When ready, gently knead dough for a few seconds, divide dough in two portions, roll one out flat about 3mm (while keeping other portion covered so it doesn't dry out). Prick rolled out dough with fork all over so they do not puff when frying. Then cut each of them into small squares or diamond shapes as you wish.
4. Heat oil in frying pan on medium heat. Add each batch of the shakkar paara at a time, giving them sufficient space in pan for frying and rotating instead of filling up pan and leaving no space for them to fry well. Fry the shakkar paare on both sides until light golden-brown. Drain on paper towel; let them come to room temperature.
5. In another medium pan, add water + sugar on med heat, stir to dissolve sugar, bring it to a boil until sugar syrup is just about one-thread consistency. The syrup consistency should not get too thick; it should be thin enough to coat the shakkar paare but not watery because then it will make the shakkarpaare soggy and would spoil the crispiness of paare.
6. Turn off heat; add the cardamom powder + coconut, mix quickly, then add the paares to this syrup right away and mix REAL QUICK to ensure all the shakkar paare are coated with syrup. Transfer shakkarpaare onto a plate and separate the paaras that are clumped together. Let them cool before storing in airtight container.
Like us on Facebook & stay posted on delicious recipes: www.facebook.com/sunflameindia
Source - http://spusht.blogspot.in/2011/06/namak-paare-shakkar-para-snack.html