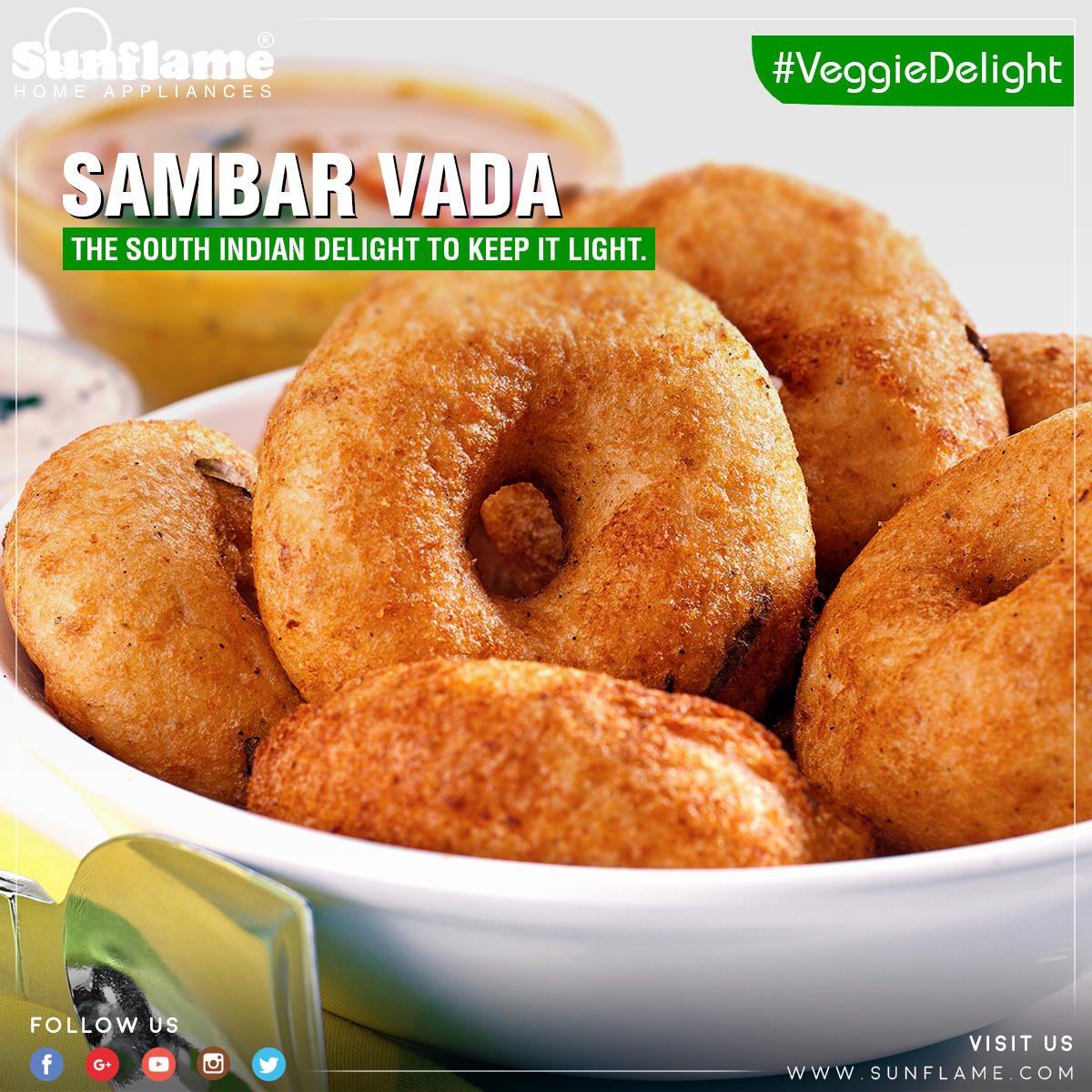 INGREDIENTS
For Sambar:
½ cup toor dal
1 to mato
¼ tsp turmeric / haldi
1½ cup water
3 tsp oil
1 tsp mustard / rai
pinch of hing / asaofetida
1 dried red chilli
few curry leaves
2 green chilli, slit
½ onion, petals
½ cup tamarind extract
½ tsp jaggery / gud
1 tsp salt
1½ cup water
1 tbsp sambar powder
1 tbsp ghee / clarified butter

For Vada:
1 cup urad dal
2 green chilli, finely chopped
1 inch ginger, finely chopped
few curry leaves, finely chopped
2 tbsp coriander, finely chopped
1 tbsp dry coconut / kopra, chopped
pinch of hing / asafoetida
2 tbsp rice flour
½ tsp salt
oil for deep frying
INSTRUCTIONS
For Sambar:
Firstly, pressure cook ½ cup toor dal, 1 tomato, ¼ tsp turmeric and 1½ cup water for 5 whistle on SUNFLAME OPTRA 3B SS cooktop.
In a kadai heat 3 tsp oil and saute 1 tsp mustard, pinch of hing, 1 dried red chilli and few curry leaves.
Also saute 2 green chilli and ½ onion for a minute.
Now add ½ cup tamarind extract, ½ tsp jaggery and 1 tsp salt. mix well.
Boil for 10 minutes or till tamarind extract gets cooked well.
Add in whisked dal and tomato. mix well.
Also add 1½ cup water and adjust consistency. boil well.
Furthermore add 1 tbsp of sambar powder and stir well.
Add in 1 tbsp ghee and boil for 2 minutes.
Finally sambar is ready to serve with vada or idli.
For Vada:
Firstly, in soak 1 cup urad dal in enough water for 3 hours. do not over soak, as the vadas will absorb oil.
Drain off the water and grind to fine fluffy paste adding water as required. i have added 4 tbsp of water to make smooth thick paste.
Transfer the urad dal paste into large mixing bowl. beat and mix the batter in circular motion till they turn light. this helps to incorporate air into batter and make medu vada soft and fluffy.
Further add 1 inch ginger, few curry leaves, 2 tbsp coriander, 1 tbsp dry coconut, pinch of hing, 2 tbsp rice flour and ½ tsp salt.
Mix the batter well with the help of spoon.
Heat the oil in large kadai. wet your hands with enough water and take a small ball sized dough and make it round.
Now slowly shape the edges and make a hole at the centre like you prepared in bread vada.
Drop the vada in oil and deep fry the medu vada on medium flame.
Fry on both sides till they turn golden brown and crisp.
Drop the fried vada into warm water and add ¼ tsp salt.
Soak for 10 minutes or till vada absorbs water.
Squeeze off the water and place the vada into a plate.
Pour the prepared sambar over vada.
Finally, sprinkle few chopped onions and serve sambar vada.
Like us on Facebook & stay posted on delicious recipes: www.facebook.com/sunflameindia