Pumpkin curry in Coconut cream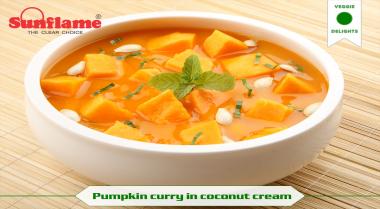 INGREDIENTS:
2 teaspoons coriander seeds

1 teaspoon cumin seeds

1/2 teaspoon fennel seeds

1 medium (roughly 2 1/2 pound) butternut squash

3 tablespoons cooking oil, such as grapeseed or peanut oil

1 large shallot, peeled and sliced

4 garlic cloves, peeled and chopped

1/2-inch knob fresh ginger, peeled and minced

1 jalapeño chile, chopped (seeds optional, for extra heat)

1/2 teaspoon turmeric

1/2 teaspoon cayenne (optional, for extra heat)

2 small, dried red chilies (optional, for extra heat)

1 Balinese Long Pepper (optional)

1 tablespoon tamarind paste

1 14-ounce can coconut milk

1 cup water

1 teaspoon salt or to taste

Cilantro, for garnish
INSTRUCTION
In a small, dry skillet over medium heat, toast the coriander, cumin, and fennel seeds. Once
cool, grind the toasted spices in a spice grinder.
Meanwhile, peel and dice the squash into bite-sized pieces. You should have about 5-6 cups of
squash.
Warm the oil in a large Dutch oven over medium heat. Add the shallot, garlic, and ginger. Cook,
stirring, until the shallots are soft and translucent. Add the chile, turmeric, cayenne (if using),
small dried red chiles (if using), Balinese Long Pepper (if using), and the ground toasted spices.
Stir to release fragrance, cooking for 2-3 minutes.
Add the squash, tamarind paste, coconut milk, water, and salt. Bring to a boil, lower heat, and
simmer for about 45 minutes until squash is tender and just beginning to break down. The
squash will thicken the curry as it cooks down. If you want an extra-thick and creamy curry,
puree a cup or two of the squash with an immersion blender and mix it back into the curry.