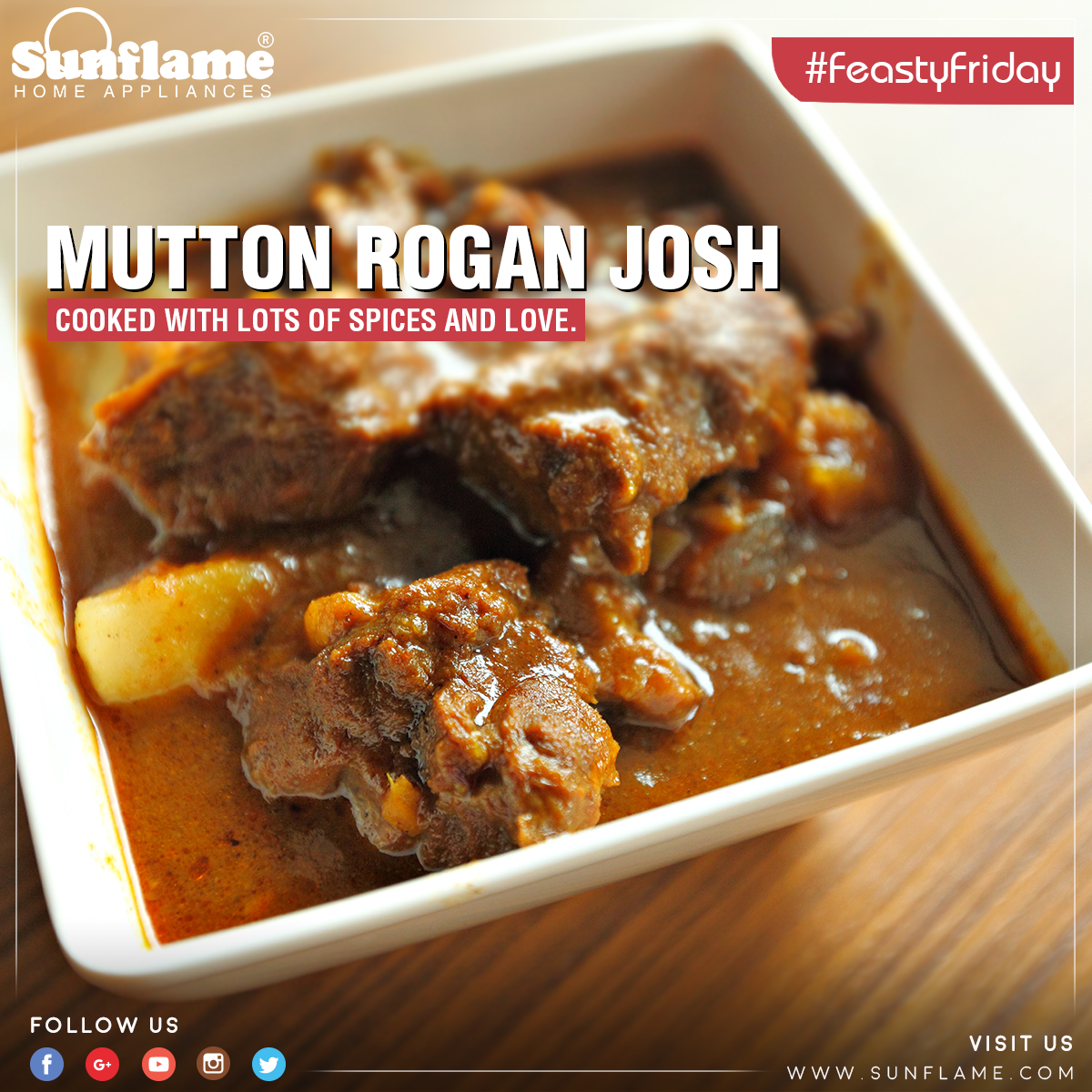 INGREDIENTS
500 gm mutton
1 pinch asafoetida
2 cinnamon
3 black cardamom
3 teaspoon powdered fennel seeds
1 tablespoon coriander powder
1 pinch saffron
1/4 cup grated khoya
2 ml kewra
1 teaspoon red chilli powder
1/4 cup mustard oil
1 teaspoon cumin seeds
6 peppercorns
3 red chilli
1 teaspoon ginger powder
3/4 cup hung curd
1/4 teaspoon garam masala powder
15 gm blanched & peeled,crushed to paste almonds
4 pinches salt
1 cup water
INSTRUCTIONS
In a large-bottomed pan, heat mustard oil on medium flame and switch on SUNFLAME LANCER CHIMNEY alongside to prvent the smells of cooking from going out.
Add asafoetida (heeng), cumin seeds, cinnamon, cloves, peppercorns, cardamoms and whole red chillies.
Sauté all the spices in the pan on low flame. Now add mutton pieces and cook on medium flame for 10 minutes. Now add some water and cook covered.
When the pieces are soft and cooked half way, add all ground spices along with saffron and mix well. Cook covered for 2-3 minutes.
Now add salt along with whisked hung yogurt and cook for about 3 minutes. Now add the garam masala powder, grated khoya, almond paste and kewra water.
Cook the mutton on low flame till it is tender.
Garnish it with fresh coriander leaves and red chillis. Serve hot with naan or rice.