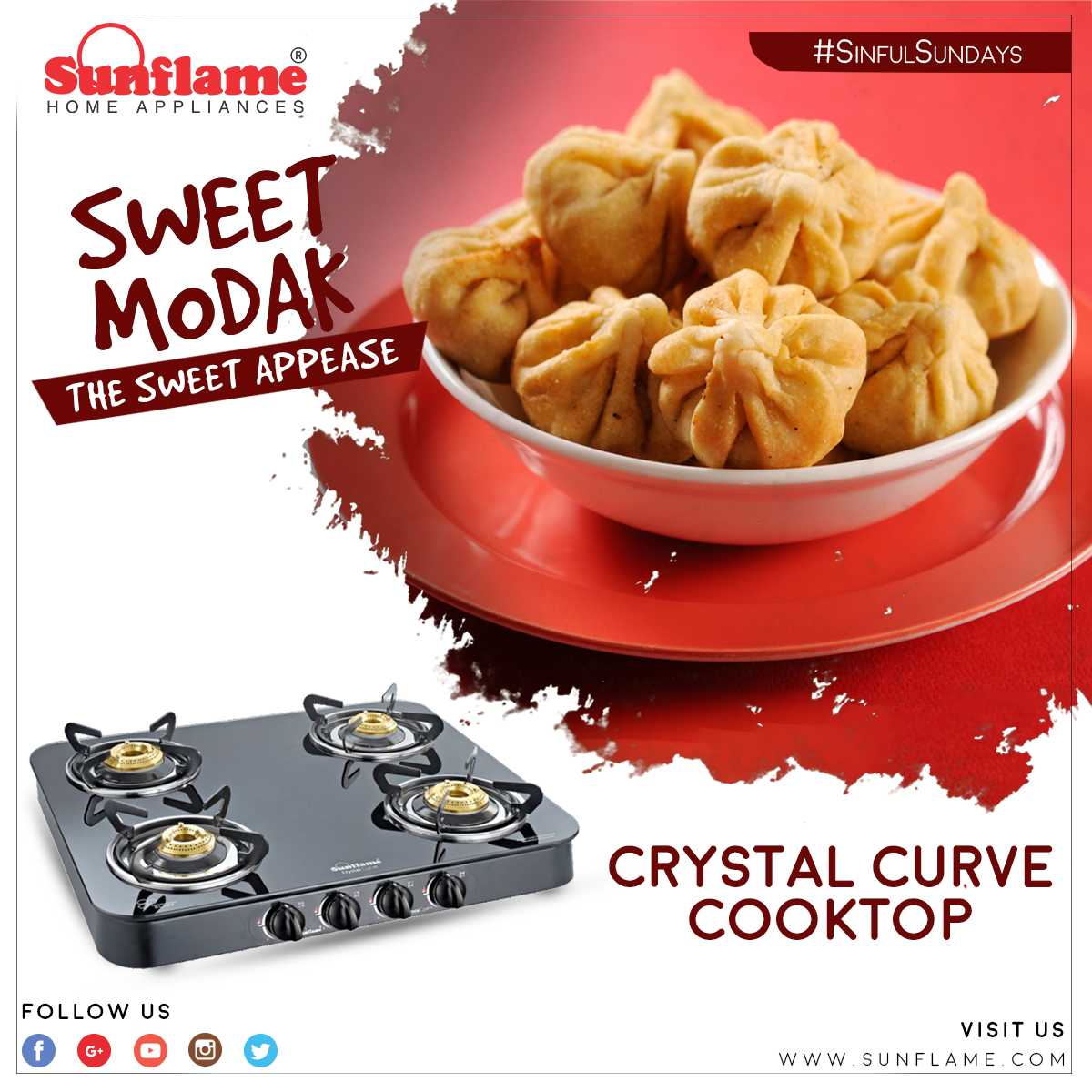 INGREDIENTS
To Make Ukad:
2 cups rice flour
4 tsp glutinous rice flour (You will get it in the Japanese market)
2 cups of water
Pinch of salt
2 tsp ghee(clarified butter)
To make stuffing:
2 cups shredded coconut
2 cups jaggery
4 Tbsp poppy seeds
Cardamom powder
Roasted cashew nuts and raisins
INSTRUCTIONS
To make ukad:
Mix rice flour and glutinous flour well. Seive

2 to 3 times.

Boil water and add a pinch of salt along with a tsp of ghee and pour rice flour on Sunflame Crystal Curve Cooktop. Mix well.

Cover with a damp cloth and keep aside for 10 minutes.
To make stuffing:
In a pan, roast the poppy seeds.

Once they are roasted well add the shredded coconut and jaggery.

Mix everything well. Finally add cardamom powder and cashewnuts.

The stuffing is ready.
To make modak:
Take ukad, wet hands with water and oil to knead ukad into a soft dough.

Now start to put ball in to small bowl size shape, stuff the filling and start to make plates around stuffing.

Gather all plates at the center of stuffing and seal edges.

Keep the modaks covered with a wet cloth as they can dry out.

Heat up 1 inch of water in Idly cooker, put one small round pot, cover that place with small thali or chalni.

On top of the chalni place a banana leaf. Now place modak on the banana leaf, leaving enough space around each modak.

Steam for 10 minutes over medium heat.

Modak are ready to be served..
Like us on Facebook & stay posted on delicious recipes: www.facebook.com/sunflameindia