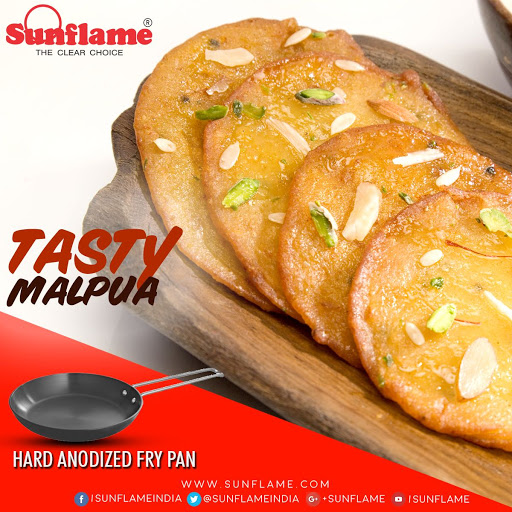 Ingredients
200 gm all purpose flour
1 teaspoon fennel seeds
1 teaspoon powdered green cardamom
1 cup ghee 250 ml water
50 gm khoya
100 gm semolina
1/2 teaspoon baking powder
500 ml milk
250 gm sugar
1 pinch saffron
For Garnishing
2 tablespoon chopped pistachios
Directions
Step 1: For making the sugar syrup, place water in a pan over medium flame. Add sugar in it and stir until fully dissolved. Then add 2-3 tsp milk and stir again, after a few minutes remove the scum that rises to the top. Once the sugar syrup is thick, remove the pan from the flame and keep aside.
Step 2: Mix maida, rava, khoya, baking powder, fennel seeds, cardamom powder and milk. Ensure the mixture is of pouring consistency and not too thick. Once the batter is ready, keep it aside for few minutes so that the flavour of spices and herbs gets absorbed.
Step 3: Now heat ghee in a pan over low flame. Pour a ladleful of the mixture and spread evenly. Keep the flame low and cook till it is light brown on both sides. Remove the cooked malpua and drain the excess ghee.
Step 4: Drop the malpua in sugar syrup and allow it to soak for 10 minutes. Repeat the same with the remaining batter. Drain the malpuas from the syrup, garnish with pistachios and serve hot.
Like us on Facebook & stay posted on delicious recipes: www.facebook.com/sunflameindia