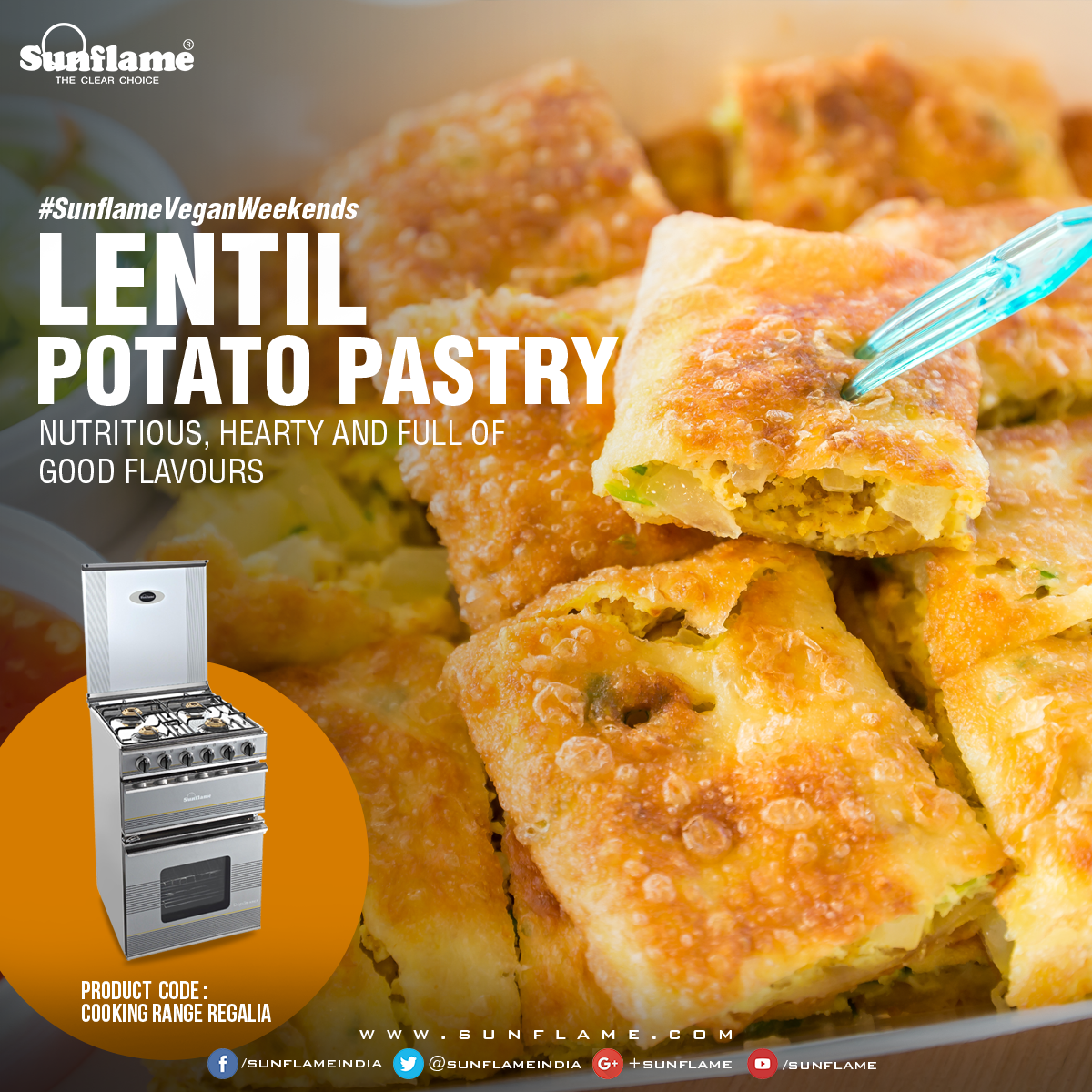 INGREDIENTS
2 tbsp olive oil
2 (150g) medium white onions, peeled and thinly chopped
3 (185g) medium red onions, peeled and thinly chopped
4 (100g) shallots, peeled and thinly chopped
1 x (215g) large potato, peeled and cubed into bite sized pieces
1 x (80g) small/medium sweet potato, peeled and cubed into bite sized pieces
1 stick of celery, stringy bits peeled away, finely chopped
120g (1 cup) Cooked firm dark lentils, such as Puy Lentils (as they hold their shape and do not turn too soft when cooking in the sauce)
1 teaspoon mustard such as Dijon
200ml (7 fl oz) white wine
50g (1/3 cup) cornflour
1 heaped tablespoon of vegetable bouillon powder (preferably reduces salt) or 1 x vegetable
stock cube, (reduced salt), I use Marigold vegetable bouillon
400ml (14 fl oz) water, cold
1 tablespoon Worcestershire sauce (vegetarian with no anchovies)
1 tablespoon tamari sauce (gluten free) or soya sauce
5g x (6) fresh sage leaves, chopped
120g (2/3 cup) frozen peas
10 inch metal pie dish
200g ready made short crust pastry, I use Helen's Gluten Free Pastry Mix
INSTRUCTIONS
1. Preheat your oven to 180 C
2. If you aren't using tinned lentils, place a pan of water on to boil, once boiling add the lentils and cover and gently simmer until just cooked, approx 15 minutes.
3. Peel and chop the onions, heat the olive oil in a large high sided pan and place the onions in, stirring occasionally.
4. Peel the potatoes and chop into bite sized cubes and place the white potato in a saucepan of cold water and bring to the boil for five minutes. Then add the sweet potato pieces, as they don't take so long to cook. Once they just cooked through, approx. 8 minutes, take them off the heat and drain and set aside.
5. Whilst the potatoes are boiling, peel away any stringy bits from the celery, chop finely and add to the gently cooking onions, remembering to keep stirring now and again so they cook evenly.
6. Add the cornflour to a measuring jug and mix in the vegetable bouillon powder or crumbled vegetable stock cube. Now gradually stir in 400ml of cold water, mixing to avoid any lumps. Gradually stir this cold mixture stock mixture into the cooking onions and stir with a wooden spoon to avoid getting lumps. Bring to a gentle simmer and stir often until the sauce has thickened, about 4 to 5 minutes.
7. Add the fresh sage, frozen peas and cooked drained dark firm lentils and potato pieces.
8. Stir in the white wine, Worcestershire sauce, tamari sauce, mustard and allow to gently simmer, stirring often for a further 5 t0 6 minutes.
9. Turn off the heat and allow the filling to cool for 20 minutes so it is not too hot when you pour it into the prepared pastry case.
10. Whilst the filling is cooling, flour a work surface (I use buckwheat flour), use a rolling pin to roll out the pastry so it's in one large flat thin round piece.
11. Fold the pastry over your rolling pin and gently lay it over the pastry tin, allowing the extra pasty to hang over your 10 inch mental pie dish, as you will fold these extra piece in to close up the pie laster. I use a spring bottom metal pie case for ease of removing the pie once it's cooked.
12. Spoon the cooled filling mixture into the centre of the pastry case, then to close the pie pull over the excess pastry from the outside in into the centre and pinch it together to close.
13. Brush the pastry top, with either milk, almond milk or egg yolk depending on your preference, so it will have a shine to it when it comes out of the oven.
14. Put the pastry in the middle of the oven and cook for 35 minutes.
15. Take the pie out and allow to cool slightly, remove from the pastry case and plate up.
16. Serve straight away.
Source - http://www.pforpeckish.com/potato-onion- and-lentil- pie/
Like us on Facebook & stay posted on delicious recipes: www.facebook.com/sunflameindia