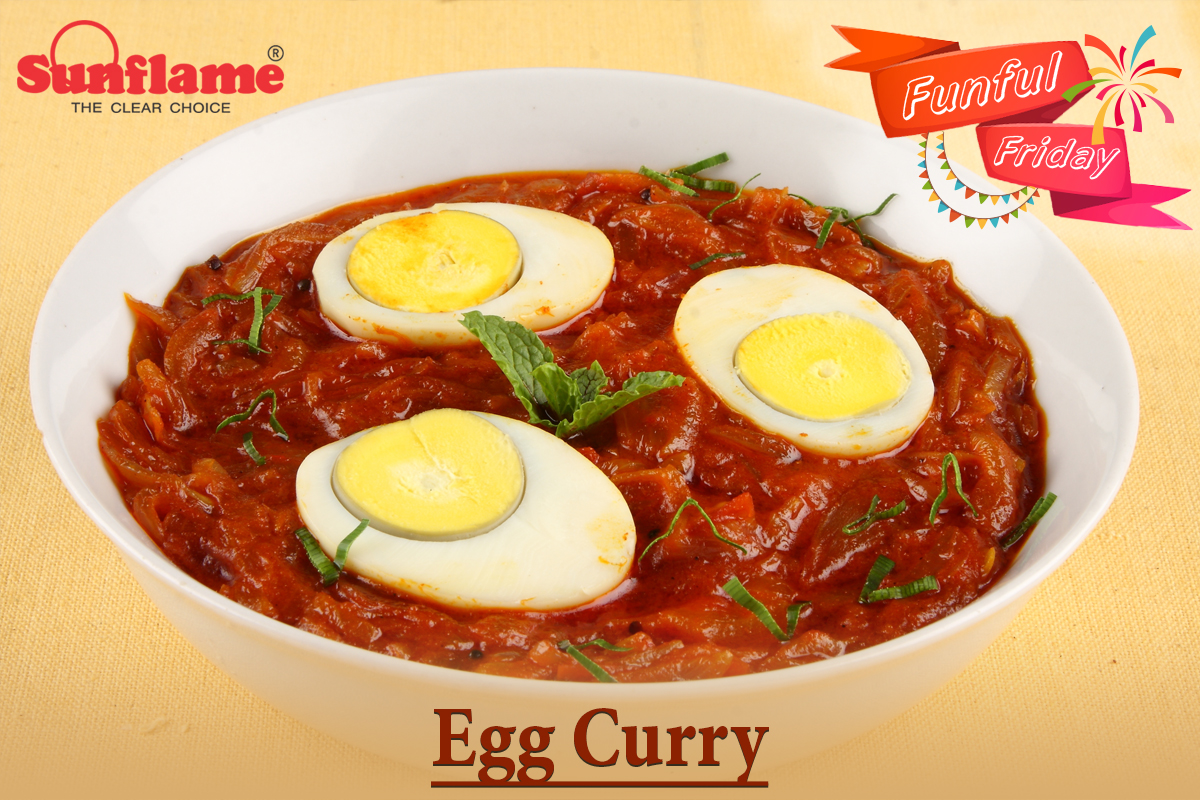 INGREDIENTS
For Gravy:
Onion - 2 nos., medium size, finely chopped
Tomato - 2 no., medium size
Garlic - 3 cloves
Ginger - 1 inch piece
Green chilli - 1 no
Turmeric powder - 1/4 teaspoon
Salt - to taste
Coriander leaves - 2 spring, for garnishing
For Egg:
Eggs - 3 nos.
Oil - 1 teaspoon
Red chilli powder - 1/2 teaspoon
Salt - a pinch
For Roasting and Grinding:
Cloves - 5 no.
Cinnamon - 2 inch piece
Dry red chilli - 3 no.
Coriander seeds - 1 tablespoon
Black pepper - 1 teaspoon
Cumin seeds - 1/2 teaspoon
Fennel seeds - 1 teaspoon
Poppy seeds - 1 teaspoon
Grated coconut - 1/4 cup
For Seasoning:
Oil - 2 tablespoons
Mustard seeds - 1/2 teaspoon
Fennel seeds - 1/2 teaspoon
Bay leaves - 1 no.
Curry leaves - 1 spring
INSTRUCTIONS
Hard boil egg for 7-10 minutes.
Meanwhile, roast all the ingredients given under "For Roasting and Grinding" except poppy seeds and coconut. Roast well till you smell nice aroma out of it. Towards the end of roasting, add poppy seeds and coconut. Continue roasting for few seconds and turn the flame off. Allow it to cool to room temperature. Make a smooth paste of it by adding 1/4 cup or enough water.
Make a paste of ginger, garlic and green chilli. Roughly chop tomatoes and make a paste of it using a blender. Keep both aside.
Take a pan and heat oil in it. Throw in mustard seeds, fennel seeds and bay leaves.
Add chopped onion with curry leaves once the seasoned ingredients splutter. Saute it till the onion becomes soft.
Add freshly ground ginger garlic green chilli paste and fry for 1 minute.
Add ground tomato and cook till the raw smell of tomato completely goes off.
Now, add the ground masala and turmeric powder. Mix well. Once the masala gets cooked well, add 1-2 cups of water. Let it boil in medium flame.
By now, the eggs would have boiled. Peel off the skin and prick using a fork.
In another pan, heat a teaspoon of oil. Add eggs followed by salt and red chilli powder. Roll the eggs well so that the red chilli powder coats the eggs nicely. Fry for a minute.
When the gravy becomes thick and the oil oozes out from the gravy, add eggs and mix it well.
Continue cooking for few minutes and turn the flame off.
Garnish with finely chopped coriander leaves.
Source - http://www.umaskitchenexperiments.com/2013/12/chettinad-egg- gravy-chettinadu-muttai.html?m=1
Like us on Facebook & stay posted on delicious recipes: www.facebook.com/sunflameindia