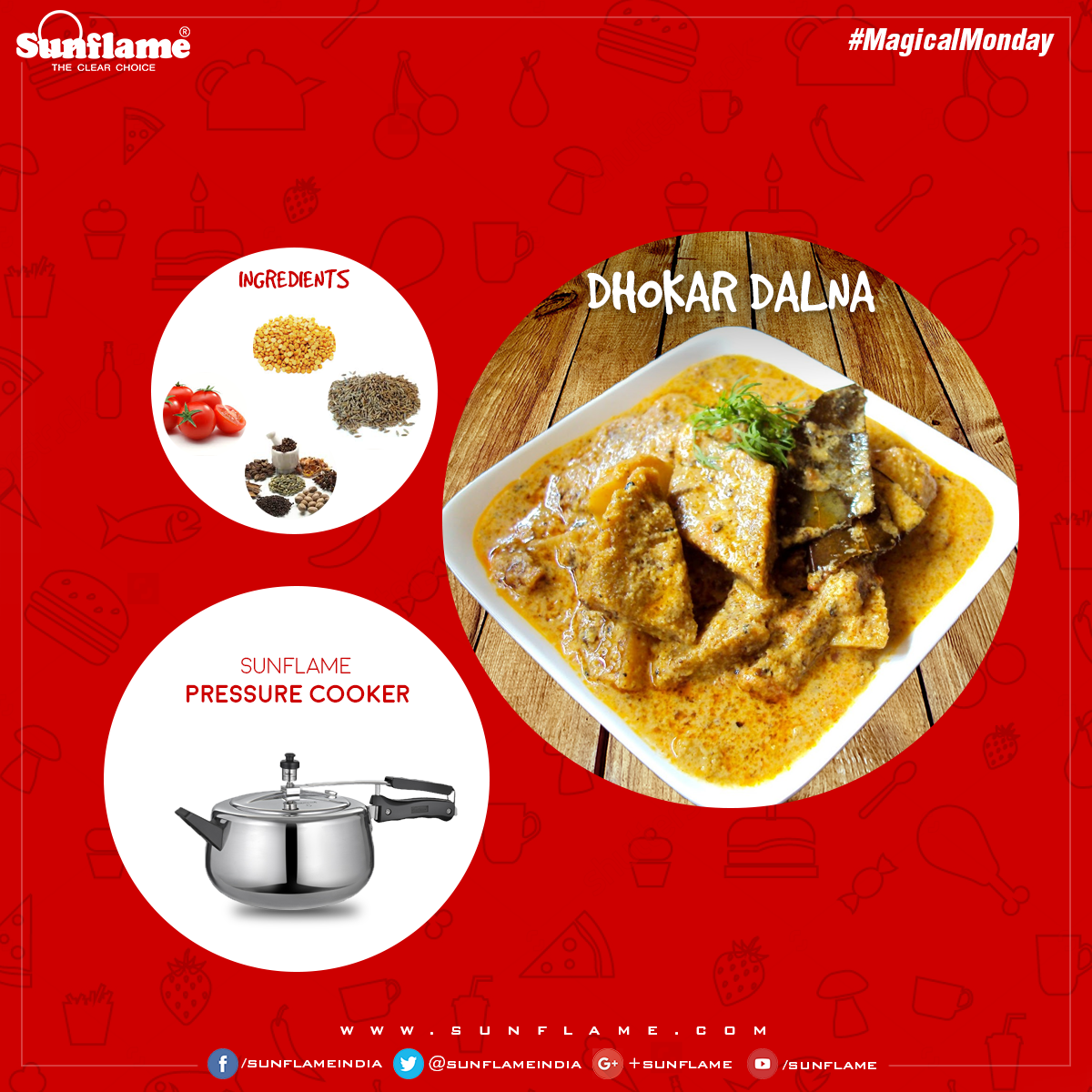 Ingredients Needed
To Make the Dhoka or the Lentil Cakes
For grinding:
Chana Dal – 1 cup (makes about 25 small cakes)
Green Chilies – 3 -4 nos
Salt – 1/4 tsp
Ginger – 1″
For Sautéing
Cumin Seeds – 1/2 tsp
Hing – a pinch
Sugar a pinch
Ginger, grated – 1 tsp
Oil for deep frying
To make the Lentil Cakes
Wash and soak Chana Dal/Bengal Gram in water overnight.
Change water couple of times and drain the water.
Take the dal along with green chilies, salt, ginger and grind to a fine paste. Add little water as required for grinding.
In a non stick pan, heat oil, temper with Cumin seeds, Hing, sugar and ginger paste. Fry for couple of seconds.
Now add the ground dal paste to the pan and cook until the mix comes off the sides clean. The dal should be cooked so that is moist and soft but not runny or hard.
Once it is cooked, transfer to a greased plate.
Apply oil on your hands and immediately pat the paste into a cake, make sure the sides are tucked in. Make a 1 1/2 inch width cake. The paste gets dried up fast, so you got to be quick in patting it down. Once it cools down, cut into 2 inch squares or diamonds.
Heat a kadai with oil and deep fry the lentil cakes till golden brown on both sides. Gently slide them into oil and don't flip over for the first few minutes. Fry in batches and drain them over a kitchen towel.
Notes:
Using a non stick pan will work best for sautéing the dal paste.
Frying the dal paste is quite tricky. Quickly keep stirring to avoid the dal getting struck to the sides. It only takes about 5 mins or so for the dal to get cooked. If you are not sure, keep the flame in low and cook.
To Make the Gravy
For the potatoes
Potato – 1 big
Peel and chop into small pieces. Deep dry in the same kadai that you used for frying the lentil cakes.
Sprinkle a bit of salt after draining from oil. Keep it aside.
Ingredients Needed:
Oil – 1 tbsp
Bay leaf – 2 small
Cumin Seeds – 3/4 tsp
Tomato – 2 medium, puree.
Curds/ Yogurt – 1/2 cup
Roasted Coriander Powder – 1 tsp
Roasted cumin Powder – 1/2 tsp
Red Chili Powder – 1 tsp
Turmeric powder a pinch
Garam Masala – 1/4 tsp
Ghee – 1 tsp
Salt to taste
How to make the Gravy
Heat Oil in a Kadhai or any other thick bottomed pan.
Temper the Oil with Bay leaf, Cumin Seeds and a pinch of Hing.
Add tomato puree and saute till tomato is well cooked and there is no raw smell.
In a cup mix the curds with Coriander Powder, Cumin Powder, Red Chili Powder and turmeric to make a fine paste.
Add the curd paste to the Kadhai and fry the masala at low heat.
Add the fried potatoes and about 1&1/2 cups of water. Add salt to taste and cover and cook till potatoes are done.
Adjust for any seasoning, add a pinch of sugar. Next add Garam Masala and Ghee and gently mix.
Now gently slide in the pieces of dhoka or the fried lentil cakes. Simmer for couple of minutes to let the dhoka soak up the gravy.
Like us on Facebook & stay posted on delicious recipes: www.facebook.com/sunflameindia
Source – www.spicingyourlife.in/2014/01/dhokar-dalna-bengali-special-how-to.html