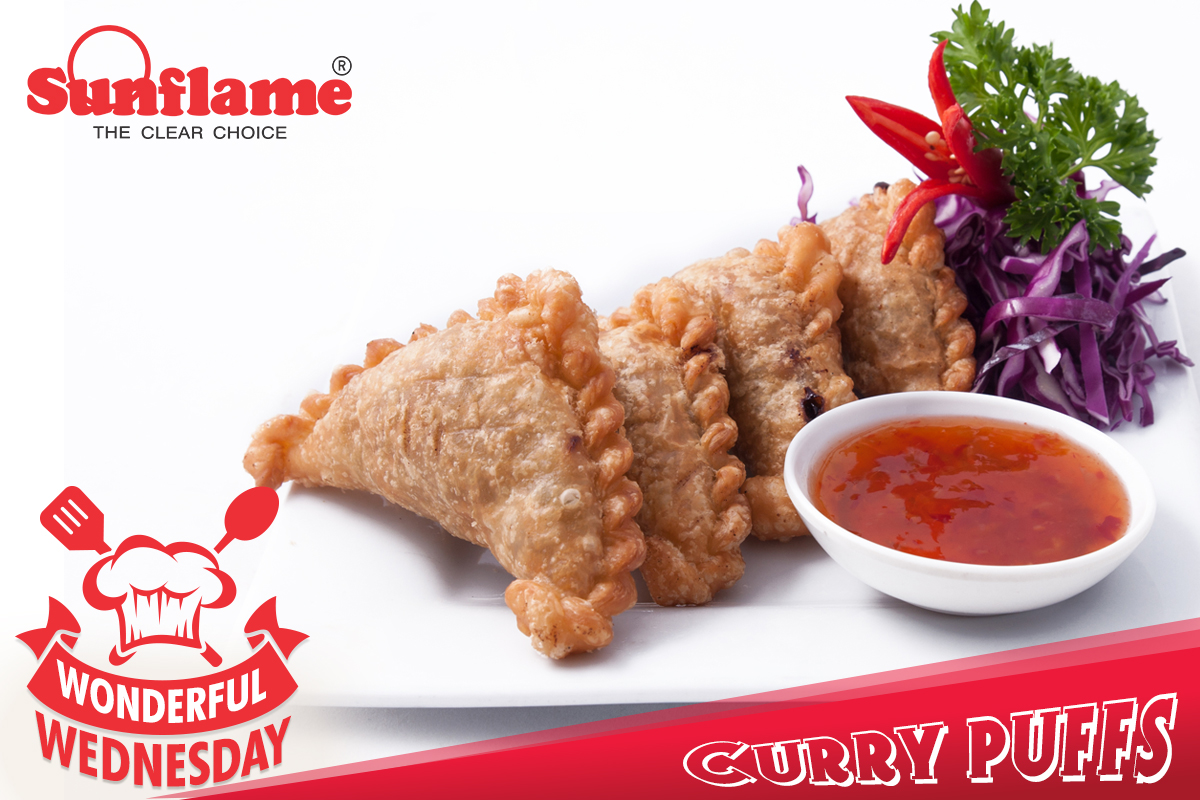 INGREDIENTS
Filling
2 tbspvegetable oil
½large brown onion, peeled, diced into 5 mm cubes
2-3 tbspmeat curry powder
250 gchicken breast or chuck steak, diced into 5 mm cubes (use mince if you're lazy)
100 gsweet potato, peeled, diced into 5 mm cubes
1medium potato, peeled, diced into 5 mm cubes
½ tspsugar, or to taste
1 tspsalt, or to taste
Shortcrust pastry (see Note)
3 ⅓ cups(500 g) plain flour
1 tspsalt
250 gunsalted butter, room temperature
120 mlchilled water and more if required
2 litres vegetable oil, for frying
INSTRUCTIONS
Cooling time 30 minutes To make the filling, heat the oil in a medium sized non-stick frypan over medium heat. Sauté the onions for about 2 minutes or until soft and golden. Add the meat curry powder and cook for about 10 seconds or until toasted and very fragrant. Add the chicken and stir-fry until cooked. Add the remaining ingredients and stir-fry for about 5 minutes or until the potatoes are tender.
Taste and season further. Spread mixture out on a plate to cool, cover with cling wrap and refrigerate.
Meanwhile, to make the shortcrust pastry, combine the flour, salt and butter in a large mixing bowl. Break off chunks of butter and, with your hands rub the butter into the flour vigorously until you achieve a sandy consistency. Gradually add tablespoons of water at a time and, rather than kneading, use a gathering, squeezing action to bind the mixture into a firm dough. Roughly shape into 3 discs, cover with cling wrap and rest in the fridge for 30 minutes.
To stuff curry puffs, dust a clean benchtop with a little flour and roll pastry until 3 mm thick. Cut 20 circles with a pastry cutter - cut all your pastry out at once then lay the cut pieces on baking paper, cover with cling wrap and place in fridge. Working with only a few pieces out of the fridge at a time, fill each circle with a teaspoonful of mixture. Fold in half then squeeze the edges together and crimp or using the tips of a fork, gently press on the seams (resting on benchtop) to seal the edges. Place the curry puffs on a tray in the fridge until ready to cook.
To fry, heat the oil over medium-high heat in a large saucepan or wok. To test if the oil is ready, drop in a very small portion of pastry. If it turns golden in 15-20 seconds, you are good to go. Fry 4 curry puffs at a time until the pastry is a beautiful deep golden, then drain in a colander lined with paper towel. Another option is to brush the curry puffs with an egg wash (1 egg whisked with 1 tbsp of milk) and bake at 180ºC or 170ºC fan-forced for about 25-30 minutes until deep golden. Serve hot or at room temperature.
Source : http://www.sbs.com.au/food/recipes/curry-puffs
Like us on Facebook & stay posted on delicious recipes: www.facebook.com/sunflameindia