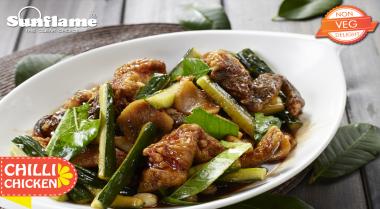 INGREDIENTS
250 gms boneless chicken breast (cut into 1 inch cubes)

1 egg white

1 tsp salt

4 tsp red chilly sauce

2 -3 tsp cornflour

1 tblsp soy sauce

2 tblsp tomato ketchup

1 tsp white vinegar

2 tblsp oil

1/2 tsp ginger paste

1 tsp garlic paste

1 big onion sliced long

1/2 cup capsicum (cut into big cubes)

1 -2 green chillies

Green corainder and green onion for garnish

Oil for frying
INSTRUCTIONS
Marinate the chicken pieces in egg white, 1 tsp salt, 2 tsp red chilly sauce and 2 -3 tsp cornflour. Mix well and keep for 10 - 15 minutes.
In a bowl mix 2 tsp red chilly sauce, soy sauce, tomato ketchup and white vinegar. Keep aside for later use.
Now heat oil for frying in a kadai/wok and fry the chicken pieces separately for 2 -3 minutes. Do not over fry otherwise the chicken will get hard. Take them out on a paper tissue.
In a separate pan heat 2 tbsp oil and add garlic and ginger paste. Fry till golden color and then add sliced big onion and capsicum cubes and slit green chillies. Stir fry on high flame for 2 -3 minutes. Do not overcook the vegetables. The vegetables should be crunchy.
Now lower the flame and add the sauce mixture and 1/4 cup of water. Mix well.